Wednesday, July 26, 2006
Wayne Lai will soon undergo second operation
Earlier, Wayne Lai has been suffering from an injury resulting in a bacterial infection. This lead to pus in his anus and thus revealed a lump. The doctor told him that the place of infection will diffuse his muscles and become an ulcer. Therefore he has to undergo two surgeries.
The day earlier, Wayne already underwent a first operation regarding the pus and he is scheduled for a second one soon. When he accepted an interview, he expressed: "It was actually quite painful when they washed the pus out of the wound. After the doctor told me the process of the second surgery, I was already scared. Although it's only some physical pain and not a life-threatening condition, but it's still a punishment for me. Because my toilet habits aren't too well, I always push too hard. Perhaps this year my life is In Conflict (faan tai sui)."
Wayne also revealed that he originally would be in the new series produced by Lau Ka Ho with a very challenging role. Unfortunately, because of this operation he couldn't carry out the shooting. In the end, his character went to Louis Yuen.
Source: Oriental Daily
Wednesday, July 19, 2006
BES' blabberings II...
As you all can see, I've changed my template once again as I wasn't completely satisfied about my previous one. I've been working (mainly editing an existing on hehe...) for a few days now and I'm so glad that I have finally finished it. Also a new chatbox has been added as I was having some troubles with my previous shoutbox: shouts were doubled and even tripled; links didn't come out right; unreadable symbols were added, some complained that the shoutbox disappeared and so on. Chatbox, on the other hand, has already proven its reliability with the other blog owners, so I finally gave in and decided to follow them hehe... So, what do you think of this new template? Good? Chaotic? Want the old one back? (Sorry, don't think I've saved the previous template :p)
Anyway, I have hoped that my updates would become more regular (read: daily news translations) now that I have vacation, but it seems that I just can't update daily. However, I have noticed how time-consuming chores could be now that I am home alone (parents and sister are in Hong Kong). It seems that I have been so spoiled as I could just sit at the table after they have shouted twice that dinner is ready, my clothes are being washed for me, I don't have to worry about groceries, my dad always feed the cat and so on. Now I have discovered that you have to start cooking one hour before the designated time that you want to eat, ironing is a very boring and time-consuming chore and so on. And not only is my routine broken, but the cat's one as well. Normally, he eats twice a day at 11-ish in the morning and 10-ish in the evening, but sometimes I'm waking up late or leaving early in a hurry or I come home very late. This means that he sometimes eats once a day only or twice soon after the other. Guess, this is a good way to get me more domesticated lol...
I still have to begin my job hunt as I have already postponed it to the end of July, using the excuse that this would be my final three months' vacation. But, we have finally decided on our holiday destination this year. I'm actually quite proud that we have managed to do it so early since we usually only book three weeks before we actually go. We are going to New York for ten days in September, so am really looking forward to that. So, what have I been doing lately? Nothing much really: catching up on some series, went to the beach a few times (burnt my back!), I also went to see
The Sultan's Elephant
from the French theatre group Royal de Luxe (it was spectacular and I will post the pics as soon as I get them from my friend), saw some movies as well, lots of pubbing (beautiful and sunny weather!) and visited some festivals too.
Also, something new will be introduced today. I guess you are all familiar with the concept of "six degrees of seperation", so I am trying it out with celebrities. Hopefully you'll enjoy it and can guess the question marks correctly! A new 'Guess the series' will be posted soon, so remember to check back later...
Tuesday, July 18, 2006
Roger Kwok willing to be a 'new man' for Cindy Au
Roger Kwok and Cindy Au have been dating for seven years and they are rumoured to marry at the end of the month in Disneyland. It has thus attracted rumours that they are marrying because she is pregnant. The day earlier, Roger returned from South-Korea where he has shot some outdoor scenes with Miss Hong Kong. He immediately went out with his future wife and were sweetly holding hands, walking over the street.
Roger and Cindy have been in a relationship for seven years and for many years, there weren't any plans to marry. Earlier, the two of them suddenly spread out news of a possible marriage. It even becomes more extraordinary as they generously shared that they will get married within this year. So, it resulted in rumours that Cindy might be pregnant and thus the two of them are in a hurry to get married. In addition, Cindy also used the reason of publishing a book to ask TVB for a few months vacation. It seems to add more certainty to the news that they are getting married because of a pregnancy.
Earlier, reporters accidentally saw the couple at Central Plaza. Roger just finished his shooting in South-Korea for Miss Hong Kong and as he has a few day without filming, he decided to spend it with Cindy. Roger has always been referred to as a 'macho'. In the past, when they were travelling they will always walk apart from each other and not hold hands. However, after he decided to marry Cindy, he immediately turned into a '24/7 husband'. They held hands when walking over the streets, he helped her carry her backpack and even helped her cross the street.
Afterwards, the two of them arrived at the parking lot. In order to avoid his girlfriend waiting too long, he ran to the front to pay the expenses. Then he drove his girlfriend back home.
Yesterday, the reporters asked Roger about this matter and he firmly said: "Definitely not. If she really is pregnant, why wouldn't I admit it? I, Roger Kwok, am honest and truthful! If it's true, I will admit it." Earlier, many artists didn't admit that they were having a baby as they were afraid that something could go wrong. Regarding this, Roger is different: "If she's really pregnant, I wouldn't mind confirming it."
Asked whether they are getting married because they are thinking of wanting a baby, Roger frankly said: "Just let nature takes its course! I am getting married because it's good timing. We really haven't thought about the date yet, but it will definitely not be August. We need a little more time for our family to prepare it. Anyway, if we have decided the date, I will definitely let everyone know!"
In the past, Roger has always been referred to as 'macho', who would've thought that he has changed for his girlfriend. Roger smiled: "I am really not that macho! I am not argumenting for myself, but I've actually always helped her carry her bag. It's only that nobody sees it. However, it's very normal to carry bags. You can't not help your girlfriend if you see her getting tired carrying her bag."
Source: Singpao
Bernice Liu talking about rainy love plots
In celebration of the anniversary of radio program "巴巴閉邊個夠我查篤撐", the host Eileen Cha has organised a function about it. She has also invited eight new and popular artists including Alex Fong (Lik Sun), Ron Ng, Justin Lo, Bosco Wong, Bernice Liu, Stephanie Cheng, Stephy Tang and Fiona Sit. Together they displayed creativity as they joined forces and created an unique 'child's heart umbrella' according to the theme toys of the childhood. A charity bazaar will be held during August at the APM mall in Kwun Tong with the raised money donated to a children's foundation.
Yesterday two artists Ron and Bernice accepted an interview from the program's host. When they talked about the sketch of their design concept for the 'child's heart umbrella', both of them shared their little umbrella stories. Ron said that since he was little he liked the 'traffic light' game the most and thus he used it as his main theme for his designs. He expressed that he liked the game 'traffic light' because one doesn't need anything to play it. One can play it anytime and everywhere with his or her friends, every time it was his turn to shout he would be delighted. When he thinks back about his childhood, he doesn't have that many toys. Even a bicycle was a luxurious toy, therefore simple games like 'hide and seek' and 'traffic light' are his childhood favourites. Talking about stories related to umbrella's, Ron said that he collects umbrella's since his childhood. He will travel to different places around the world to collect attractive umbrella's. The majority of his collection are Chinese-styled umbrella's like handle designs of bamboo or cane. Also when he is shooting an ancient series, he will also inquire with the stage master where he could buy characteristic umbrella's. He also said: "Actually umbrella's don't have to be too special as the most important is that one likes the printing. For example, I also have feminine polka dots and gentlemen's umbrella's in my collection." And Bernice has chosen a 'music chair' as the main theme of her design because she has been introduced to music in her early years. She learned dancing, playing piano and other music instruments. She thinks that the game 'music chair' makes children very happy. She also thinks that this game can teach the children to connect with each other as well as establish friendships. During this program, Bernice also shared an umbrella-related story. She expressed that at her birth place it rains most of the days. Every day, the weather changes can also be very big as it could be snowing in the morning, while in the afternoon there could be a cloudburst. Therefore an umbrella is very important to her. As she often has to carry groceries over the street, she prefers small umbrella's.
In addition, Bernice also talked about her newest series with Bosco. There will be a scene where she will walk with Bosco through the rain. Regarding to rain, she sees it as a romantic occasion. She said that strolling with a boyfriend through the rain is very sweet.
Source: Sina
Frankie Lam revealing chest hair, Florence Kwok screaming
TVB series "Forensic Heroes" received average ratings of 41 points for its big finale, peaking at 43 points. It became the series of the year with the highest ratings for a final episode. The day before, producer Mui Siu Ching invited a group of artists to watch the final episode together. Attendees included Bobby Au Yeung, Frankie Lam, Linda Chung and Florence Kwok. They have opened a bottle of champagne to celebrate the high ratings and every artist requested Mui Siu Ching to film a sequel.
That evening, Frankie wore a low-buttoned shirt and thus revealed some chest hair. Upon seeing that, Florence screamed out loud. She joked that as soon as she saw his chest hair, her desire increased. In order to avoid the same situation happen like at a previous function, he immediately buttoned his shirt one button higher. When Bobby saw a low-cut Florence, he pretended to gaze at it in a sneaky way which frightened Florence so much that she immediately took a cloth to cover herself.
Bobby frankly said that he didn't expect the ratings to be so high in such a bad and quiet period. Initially, he was worried that the viewers wouldn't accept him because he isn't funny in this series. However, he can now finally relax about it. He also adds that he should shoot more 'porn' scenes to thank the audience. Furthermore, Frankie expressed his hopes to film a sequel and jokes that the more he films, the younger his co-stars are. As he is paired up with Linda in this series, it means that he has maintained himself very well.
Source: Oriental Daily
Sunday, July 16, 2006
Esther Kwan slimmed down forty pounds after giving birth
Esther Kwan wore a wedding dress to attend a slimming function as she has successfully slimmed down since the birth of her daughter. She has now regained her figure of her former days. Esther joked that she fears that Nick (Cheung) will be astonished to see her wearing a wedding dress again after their marriage. After giving birth, she has accepted a slimming treatment and in only a few months, she has lost forty pounds. She also has her ideal figure back. Currently, she and Nick are busy taking care of their daughter. Earlier, in a moment of negligence she dropped her daughter on the bed. There was also once that she has cut her daughter's finger when she was cutting her nails. She was so frightened that she didn't dare to touch her daughter's hand for two weeks, she was so anxious about it. Esther is planning on having another child, but she will wait till her daughter is a bit older before realising that plan.
Source: Sina
"Forensic Heroes" copies "CSI" finale
During the broadcast of "Forensic Heroes", played by leading actors Bobby Au Yeung, Frankie Lam and Yoyo Mung, has continuously been referred to as the copied version of the American series "CSI". This evening, it will air the final episode and it has even been criticised by netizens that it has copied the fifth season finale of "CSI" directed by the famous director Quentin Tarantino last year. It similarly tells the story of a medical examiner being kidnapped and held tightly under the ground. Through a wireless camera the colleagues could follow the sufferings of the kidnapped person as well as having to rescue that person within a limited time period.
Last year, Quentin Tarantino has directed a two-hour finale for the fifth season. The plot tells that CSI-member Nick Stokes was kidnapped by an evil criminal and was buried alive in a glass coffin in an unspecified place. Through a camera the criminal let his fellow CSI-partners to see his situation and the hardships that he had to endure. Under the coffin, he has attached heavy explosives threatening Nick's life. In the end, the criminal committed suicide and his colleagues succeeded in rescuing Nick.
Tim Ko kidnapped
This evening's big finale of "Forensic Heroes". The story goes that after Tracy (Charmaine Li) has killed herself out of guilt, her boyfriend So Chi Man (Ellesmere Choi) has decided for revenge. He pretended to be a clown to kidnap the forensic department executive Tim Ko (Bobby Au Yeung) and was held inside a bulk container. Through a wireless camera, Leung Siu Yau (Yoyo Mung) saw him suffering from the lack of water. Upon arresting So Chi Man, he committed suicide so the team loses the last trace to find Tim back. Inside the container, Tim fainted because of the lack of water. Fortunately, he was rescued in the end.
Mui Siu Ching: 'similar' not 'copied'
Both endings are very similar and some netizens have criticised TVB to have copied it entirely from "CSI". Regarding this matter, "Forensic Heroes" producer Mui Siu Ching expressed that she hasn't watched the fifth season finale of "CSI" directed by Quentin Tarantino, so she doesn't know if it is alike. However, everyone has always thought that "Forensic Heroes" is very similar to "CSI" as they both focus on the forensic department. In addition, "CSI" is very good received by the viewers so it is unavoidable that they believe "Forensic Heroes" resembles it. Like in the past, "Healing Hands" was also said to be similar to "ER", yet it also didn't copy anything. Before the series began filming, she did watch some episodes of "CSI" and colleagues have also followed forensics. The department did a lot of research and based on it, a story has been created. So we have definitely not disregarded the rest of the world.
She also stated that she hopes that through "Forensic Heroes", they have praised the Hong Kong Forensic Department and its workers as well as spreading their positive message. She also hopes that it will become the Hong Kong version of "CSI" and that they can continue to film it.
Ratings closing in on the forty points
Till now, the ratings of "Forensic Heroes" has risen with steady steps and this week's (Monday till Thursday) has increased to average ratings of 37 points, peaking at 39 points. This means that there were more than 2,5 million viewers. This evening, the one-hour finale will be broadcasted in the 10 pm time slot and it is expected that the ratings will reach a new height at 40 points.

Source: Mingpao
Credits picture: Asianfanatics

Friday, July 14, 2006
Kenix Kwok and Frankie Lam promoting "Ten Brothers" in Taiwan
Frankie Lam and Kenix Kwok didn't fear the typhoon and went to Taiwan yesterday to promote their series "Ten Brothers". Unfortunately when the airplane was taking off on the runway a temporary condition occurred and all the passengers had to stay in the plane and wait for two hours. When they were halfway, there was constantly turbulence. However, Kenix wasn't afraid at all. After arriving in Taiwan, both of them were holding each others hands tightly. When they were responding to the reporters, they were also looking sweetly at each other. On- and off-screen husband and wife Frankie and Kenix worked together in the comedy series "Ten Brothers" which will be broadcasted next Monday at TVBS in the 8 pm time slot.
This series is their first cooperation since their marriage and in this series, Kenix became a mother of ten children in one breath. In reality, she expressed: "Having children, me and my husband will face this matter with a 'let nature take its course'-attitude." In addition, Frankie is concentrating on his work first. He can especially not get away from 'doctor' roles including the ancient characters 'Wah To' and 'Lee Sie Zan' as well as his recently completed role as a medical examiner.
The ten children in "Ten Brothers" all have their own talents and each appearance is unique. At the studio, the couple was often in bewilderment and couldn't remember the rank or the name of the children. And when the filming began, the children often played riddle games with them. At yesterday's press conference, the two of them played along to a test of their tacit understanding under a crowd's jeer and the host's encouragement. The test also included a question on their first kiss, what colour underpants Frankie was wearing and Frankie even had to write out his wife's three measurements. However, Frankie didn't reveal Kenix' measurements except for expressing that it was 'very big'. This made Kenix grin from ear to ear. Kenix and Frankie loves children very much, asked what their future plans were on this matter, they said in one voice that if she was pregnant they would hope to have twins (boy and girl). Kenix also surprised everyone by saying that she might retire from the entertainment circle for her children and to accompany them well during their upbringing.
Source: Sina.hk
Thursday, July 13, 2006
Sonija Kwok's turbulent love life
Since rumours with wealthy tycoon Chan Kwok Keung has emerged, TVB artist Sonija Kwok's value has multiplied. However, yesterday there were reports stating that she has angered Chan Kwok Keung making him turn back to his old flame Michelle Yip. According to the reports of today's Hong Kong media, it says that this is only a fuse from the two of them and the truth is that earlier Sonija has secretly visited her rumoured boyfriend Joe Ma during the evening. This has angered Chan Kwok Keung so much that he has kicked her out of his golden shell. Reports thus stated that her six months of having a wealthy queen's life has ended. Yesterday, they have snapped Sonija shopping for groceries in her local supermarket like commoners do.
At the beginning of this year, it was revealed that TVB fadan Sonija has the support of wealthy businessman Chan Kwok Keung. Since then, she has left behind her difficult days of filming series, changed her car into a Mercedes convertible and lives in a mansion in Sai Kung. She also became the first female lead in his new invested movie "臥虎". During the filming process, she also had four strong bodyguards to escort her.
However, Sonija's life of a queen only lasted a mere six month as she has taken up her simple life again recently. Yesterday, there were reports that in order to avoid more rumours, she acted dignified in front of Chan Kwok Keung, refusing to accompany him and to play golf with him. Because of this, she has angered him and making him turn back to his old flame Michelle. It even said that he has given Michelle a mansion and three million (HKD) to renovate it as a sign of his sincerity.
But today, some Hong Kong said they have obtained reliable information that Chan Kwok Keung didn't dump Sonija for her diva-attitude. The truth was that she is still hung up over TVB siu sang Joe Ma. It turns out that both already had a favourable impression of each other when they were filming "The Conquest" in Henan last year. At that time, weeklies have snapped Sonija going to the toilet at the local television city. Joe then supported her, making her feel grateful. Afterwards they have been seen together in Tsim Sha Tsui and rumours emerged that Joe's marriage was in tatters.
After the rumours emerges, Sonija was worried that she would be labelled as the third party. Under pressure, both parties agreed to let go of this relationship. Coincidentally, Chan Kwok Keung started to woo Sonija during that time. Who could have thought that during this period Joe couldn't let go of Sonija and continued to meet up with her. Last month, Sonija was seen to have visited Joe's new house in Razor Park, Sai Kung during the evening. After Chan Kwok Keung has learned about this, she immediately lost favour with him. Since then, the four bodyguards has disappeared and Sonija has once again accepted another new series "Police Cadets on the Beat". Yesterday, she went out buying groceries. As she isn't wealthy anymore, she was only seen around the ten-dollar-shops and the supermarket in Sai Kung.
Yesterday afternoon at approximately two o'clock, Sonija arrived in her convertible at a Japanese shop, wearing a tee and shorts. There she bought an extension lead, electrical wires and sundries for a total sum of 190 dollars (HKD). From there she proceeded to the supermarket apples, cherry tomatoes, fruit juice and spray for extinguishing louses (pets) for about 200 dollars (HKD).
When Sonija came out and went to the car park with two big bags full of goods, she said that something is organised before her birthday. Her 32th birthday is next Saturday and she said: "I have a birthday party on the 15th which my fans has organised for me."
Source: Chinanews



Is it me or are the articles getting more and more ridiculous? How can the paparazzi found out that Sonija has spend 190 dollars or whatever, unless they are standing next to her. They really have to back down and stop stalking all these celebrities. I don't believe those rumours about Sonija being the third party in Joe's marriage and I really feel sorry for Joe's wife. Both Sonija and Joe are celebrities and they will have foreseen that such things could happen, but his wife is really innocent and must be feeling so pressured. I don't mind rumours when both parties are single, but when one party has a family such rumours can break up a family... Hopefully the Hong Kong paparazzi will think twice before they spread out new rumours again, because they actually have the power to destroy someone's family life.



Simply perfect: Rain and Louis Koo
Korea
's most popular male entertainer Rain has been deservingly voted by a Taiwanese magazine as "Entertainer with the Most Perfect Body". He is showing his chest muscles over and over again and his fans really find pleasure in it. His fans also think that his dance looks are very strong and his body doesn't have any unnecessary fat. It is definitely the best demonstration of a perfect body.
According to a report from Mingpao, Rain was shooting an ad for Pepsi with another fit male Louis Koo, both showing off their muscled chest. In comparison, they put Rain's 42 inch chest in a size s vest in addition with sequins on his chest, portraying a knife thrower. Louis, on the other hand, is a flame thrower. For Rain, the production team has changed its plans to shoot in Korea. The first time they held a work meeting, Rain unexpectedly arrived and provided many ideas.
As Rain is allergic for metallic body paint, his manager was opposed to the idea of painting his chest. However, Rain liked this idea a lot and he lobbied it to his management company. He has had over eighteen kinds of metallic body paint on his body as a test and currently all the body paint on his body is pure silver. Rain also said that he has watched the completed ad with Jolin Tsai, Edison Chen and Louis. He thinks that it is really very cool.
Louis disclosed that his deepest impression of this shooting was constantly eating Chinese pears in order to maintain his appearance. He said: "I have eaten Chinese pears for nine days to lose weight!" Louis also discovered that his appearance is even more sexy compared to Jolin. He had to put on golden make-up as well as wear a mask, so even his mother was a bit shocked.
Source: Chinanews
Frankie Lam: new concept celebrating ratings
"Forensic Heroes" with leading actors Frankie Lam and Yoyo Mung had very successful ratings, peaking at 38 points. Frankie said that if the ratings will surpass 40 points, he proposed that all the actors should bring their partners along to the celebration feast. He believes that with such an arrangement, the media would probably be the happiest. Yoyo laughed: "It's obvious that he wants to trick me and Linda Chung."
Frankie also revealed that producer Mui Siu Ching was very anxious about the ratings, but she is extremely happy now she found out that the average ratings were 37 points, peaking at 38 points. He actually hopes that it will receive 40 points, because then he will ask Bobby (Au Yeung) to wear swimming trunks and he will be responsible for taking pictures of Bobby. However, he believes that swimming trunks are too boring so he suggested that the cast should take their partners to the feast and thus revealing their love relationships. It is very clear that he wants to trick Yoyo and Linda.
Regarding this, Yoyo said: "Ha, bringing your partner along to the feast. Of course, I don't agree. It's obvious he wants to trick us. He and Bobby have revealed their wives, how about the ones who haven't?" However, she confesses that she doesn't really mind if that's really the case, because she doesn't have a boyfriend. Recently, Yoyo is busy shooting for "Breakthrough Action" and "溏心家族" (Lau Ka Ho's new series with Moses Chan, Bosco Wong and Tavia Yeung). She is also worried, because both are very different series. Soon she will have to film a taekwondo scene. She hopes that one of the series will allow her a two-day rest, so she can focus and prepare filming that scene.
Source: Sina.hk
Picture: TVB
Wednesday, July 12, 2006
Melissa Ng and Sunny Chan having a water battle
New TVB series "Guaranteed Love" held a promotion function yesterday and many artists attended it in beach clothing. However, the male and female lead Sunny Chan and Melissa Ng were more protective as both didn't wear swimwear. Sunny even kept his Hawaiian shirt on all the time. Other artists like Leanne Li, Eileen Yeow and Chan Man Ching all put on swimwear with Man Ching looking the most sexy.
Kissing Melissa
At the function, the artists of the series were divided into two groups where they held a water battle as they played water polo with inflatable jetskis. When Melissa got on the jetski, she revealed her long legs. However, when she sat she was extremely careful, afraid to expose herself. Sunny was the funniest as he impatiently put on shoes to get into water, he was laughed at by Melissa who said that he usually doesn't wear shoes when he goes out. But when he wants to go in the water, he wears shoes. Sunny explained that his wife doesn't like him walking around barefoot. He was also the first one to fall into the water as his jetski turned many times. It was extremely funny. Afterwards, he climbed onto Melissa's jetski and frightened her so much that she screamed constantly.
During the function, the producer also requested Sunny to give Melissa a peck on the cheek and the reporters requested him to do it a second time. Melissa smiled that when they were promoting abroad, Sunny also wanted to kiss her. In the end, she refused him but this time he succeeded. Asked Melissa why she is so conservative, she explained that the yesterday's theme was Hawaii. In addition, many Miss Hong Kong's were present, so she didn't dress up sexily. Reporters laughed that she also came from a Miss background and she smiled that that has been n years ago. She also didn't thought before that she will have to get into the water.
Recently, Melissa wanted to do a full medical check-up. Asked her whether she wanted to have a baby, she actually denied it. However, she referred to yesterday that she didn't put on swimwear. Man Ching really looked very sexy in swimwear. She indicated that it's best to play heartily and happily. She also wasn't worried that she would expose herself, because she didn't need to make too big movements. Earlier, Man Ching was busy hosting the World Cup program, her chest went from 34C to 33C. She also lost ten pounds, so now she is working hard on gaining back her weight.
Sunny promises that this year he will succeed
Last year, Sunny expressed that they will be working hard on conceiving a baby this year, but there still aren't many results at the moment. He said that he has fully prepared himself psychologically. If his wife really becomes pregnant, he will wait till the baby's one month birthday to give a banquet. Asked him that there are still no results after seven months, is it possible that he might be impotent? Sunny smiled that it has nothing to do with it and it's probably due to the stress. He even laughed: "I will certainly succeed this year!" He also said that if it doesn't work out this year, he will go for a medical check-up next year. Sunny expressed that his younger sister has four children and he himself wants three.
In addition, there were reports earlier labelling him, Kevin Cheng and Gigi Lai as 'pineapple chicken' at the birthday party of TVB executive Lok Yee Ling. Sunny expressed that he doesn't take any notice of the entertainment news after reading them. He also doesn't believe that anyone will take them seriously. Isn't he afraid that others will misunderstand him and think that he is kissing up? Sunny indicated that everyone had to sing a song that evening. He smiled that he was quite satisfied with his performance as he sang it without musical background.
Source: Takungpao
Ada Choi at a Japanese hairstyle show
Earlier, Ada Choi voluntarily attended a Japanese hairstyle function. Because she didn't have a remuneration this time, her hairstyle and expenses were sponsored. Asked her whether she has bought a lot of things, Ada didn't want to disclose. She also wasn't willing to tell how much money she has spent. Simply said, she returned home very satisfied making her extremely very happy.
Unknown origin
In the past, Ada has walked many fashion shows, but it turns out it was the first time she did a hairstyle show. She thinks there is a big difference between hairstyle and fashion. Fashion shows always seems to be more accurate, while one can play around more with hairstyles. Asked her whether she has encountered any nice things in Japan, Ada told that one evening she was having fun in a Japanese disco. There she saw a Japanese man staring at her and afterwards he was even trying to get to her. However, she didn't give the man a chance as she believed he was suspicious-looking. She also didn't know what kind of person he was. That evening, she was constantly talking and chatting with her friends leaving him no opportunity to say anything to her.
Source: Takungpao
Tuesday, July 11, 2006
Angel Song: Korean translation queen
At the time when the Korean wave hasn't reached Hong Kong yet and Angel Song's ten-year career wasn't going anywhere: "I wanted to marry the most at that time." Last year Angel, who is of mixed Korean blood, became the queen of translating and interpreting. Climbing up, Angel is now busier than ever. When mentioning marriage to her today, she smiled: "Today, I don't think that anymore, haha…"
It turns out that Angel wanted to return to South Korea this summer to study Korean to upgrade herself. However, as her work became busier and time tables are arranged strictly, she had to postpone her plans: "In the past, my life was quite peaceful, suddenly my work load has increased a lot because of the appearance of the Hallyu wave. In comparison, I have indeed less free time now. Yet the satisfaction that it has brought me has never made me as happy as I now am. Instead, I don't want it to return like before anymore and I even think it isn't busy enough. Actually, in the past I have never felt so rich before. Currently, I work for "Scoop" and "都市閒情", so from early in the morning till the evening you can see me on television. If it is possible, I hope it would get even busier and get more opportunities to appear on screen!"
Temporarily staying at teacher's home
"When I was young, my parents often flew between Hong Kong and South-Korea. Sometimes, I had to live with my teacher, but it wasn't really that miserable as described because the teacher treated me very well. However, a young girl often thinks of her parents! It wasn't till I was in high school till my mother felt confident to let me stay alone at home. Afterwards, my Korean cousin came to Hong Kong to study. I am an only child and I wasn't really that happy to have a relative accompanying me all the time."
Friends introducing potential boyfriends
"I have already split up with my boyfriend, so I'm single now. My friends are even more worried than I am and they are constantly introducing me their male friends. Actually, I wanted to go, but I'm just too busy at the moment! My friends are a bit miffed and ask if I am really that busy that I don't even have time for a simple dinner. Being an entertainer, you will have to set your hair style as well as wear a lot of make up. If I want to go out after my work, I will have to wash my hair and demake-up my face. Afterwards, I will have to dry my hair and put a little make up on. It doesn't really matter when you eat with your colleagues with an ancient hairstyle, but if you're going to dinner with people outside the entertainment circle it's no use to scare the others! So it's really no joke that after a whole day of work, I'm too tired to go through that process."
Don't like colleagues
"Actually, I truly want to date, but I don't like to date a colleague. However to meet men outside the entertainment circle, it is unavoidable that friends will introduce them. Although I have the heart to date, but I just don't find the time to date. I don't even have the time to accompany my mother, who is currently in Hong Kong. During the day I have to work. And even if I am free in the evening, there aren't that many places that I could go. We really don't spend that much time together, just the two of us. Besides, my mother is a career woman and has two restaurants in South Korea. If she returns to Hong Kong, she is constantly calling back. Her time in Hong Kong is even busier than mine."
Working hard on improving the lazy sounds
"When I was in high school, you could say that I was very active. However, I could never shut my mouth. Since I was young, I've always been very noisy. In class, I'd keep talking with my schoolmates until my teacher couldn't take it anymore. She could only stop us from talking by punishing the four of us to stand in each corner. Earlier, I had dinner with a former schoolmate and when we were reminiscing about this, we had to laugh till us stomach aches."
"I still have contact with some of my good friends from my studies. Because I am focusing on learning to be a host, I discovered that I have a lot of lazy sounds. I never knew that until a good friend told me that I was already like that since I was little. I said: "Why did you never told me that before!?" So she replied: "Wah! How should I know! You are Korean! It's quite normal if you speak in a weird way!" I was really annoyed by that. Now I have found a teacher who teach me to enunciate clearly and at the same time I'm working hard on a business. Perhaps it's hereditary! I'm quite interested in doing business and each member of my family has its own business. I honestly have to say that since the Hallyu wave my salary is higher than before, but it is still not enough. An artist has to buy clothes and now I have more outdoor hosting work. In the past, I always had to rely on my family's support, even when I went to South Korea to study they still had to support me. I'm not that young anymore! I should have my own savings to rely on."
Epilogue: Longing to encounter true love
Yes or no, it's only a simple choice, but artists like to be vague. Asked Angel whether she wants to date, she said: "I want to." After answering, she will continue to elaborate on that subject: "A few days before I interviewed Yumiko, mentioning her new song "When Rose meets true love" I said that I also wanted "when Rose meets true love" to happen quickly! Haha!" The Korean wave made Angel stand out. It also made her remember what the main thing is and that is to maintain a pleasant personality.
Source: The Sun
Posted by TVB Chinese News in March

Monday, July 10, 2006
Tony Leung and Takeshi Kaneshiro cooperates again after twelve years
The eighty million (HKD) movie "Confession of Pain" held a press conference yesterday. Behind this movie is the strong team that was also behind the "Infernal Affairs" trilogy Andrew Lau, Alan Mak and Felix Chong. The cast has some renowned names like leading actors Tony Leung and Takeshi Kaneshiro. Yesterday, they also revealed the names of the leading actresses at the press conference movie queen Shu Qi and one of the leading fadans in the Mainland Xu Jinglei. With such famous names, they have attracted almost two hundred media reporters from Hong Kong, the Mainland and Taiwan. The atmosphere was really very lively.
Tony awkwardly responding on Carina's (Lau) rumoured pregnancy
At the press conference, every artist only accepts an interview on stage. It was also stated beforehand the media reporters couldn't use a flash light to take pictures during the press conference. Although reports stated earlier that Tony was not satisfied with the amount of screen time that Takeshi got, but the two males were often seen chatting and laughing together. However, when Tony was talking about his character, Takeshi was talking to the director and didn't seem to care much about it. Recently there are constant rumours about Tony becoming a father, he actually does appear to be a bit uncertain and is often smiling foolishly. Regarding the two female actresses, they both appeared in sexy clothing with Xu Jinglei wearing a low-cut dress and Shu Qi didn't only wear low-cut, but revealed her back as well.
This time Tony will portray a police officer with a 'still waters run deep'-personality. As his entire family was murdered when he was little, he is quietly planning revenge for this important event. Xu Jinglei will portray his wife. Takeshi will play an alcoholic private detective and is a friend as well as a disciple of Tony. Takeshi will also have a love affair with Shu Qi in this movie. This is the first time that the two male leads are collaborating again since 1994 in the movie "Chungking Express". However, they didn't have any interaction scenes during that movie so they are anticipating this cooperation very much. Yet there are rumours that Tony is not satisfied because Andrew has increased Takeshi's screen time. Tony expressed that even before the shooting began everyone already knew the plot and the direction of this movie. Besides, he and Andrew have already known each other for many years, so they will not let such a matter happen like it is described in the reports.
Earlier there were also reports that Carina Lau went to see a gynaecologist and implied that she was pregnant. Asked Tony whether Carina is pregnant or not, he smiled awkwardly upon hearing the question. He said that he doesn't know how to respond on such questions. As he is a man, he hasn't been to a gynaecologist before. However, he thinks that women seeing a gynaecologist is a very normal case. Rumoured that he will be filming "Lust, Caution" by Ang Lee, Tony declared that he will wait till Ang Lee announcement.
Shu Qi and Xu Jinglei carrying the female lead
Earlier it was rumoured that Sammi Cheng will be the leading actress, but Andrew expressed that they have waited with the announcement of the female lead because the story could still change. They hoped to announce it after it was realised. He believes that Xu Jinglei is an artist with a lot of character and Shu Qi will easily trigger others their imagination. Shu Qi indicated that she hasn't cooperated with Andrew anymore since "Young and Dangerous". When the director called her, she already agreed without looking at the script. Therefore she also didn't know what role she will portray yesterday. In this movie, she will have a love relationship with Takeshi. Will they have intimate scenes? Shu Qi frankly said that she is also anticipating those. She joked that she will privately give a red pocket to the director and request him to arrange some intimate scenes. Andrew laughed that Takeshi has also asked him to add intimate scenes. However Takeshi, who doesn't understand Cantonese well, didn't know what they were talking about, but when the director translated for him he only smiled. Regarding her previous rumours with Chang Chen and Wang Lee Hom, is she worried that this time there will be rumours with Takeshi? Shu Qi thinks that it isn't necessary to respond on this question, she will let everyone write what they like to write.
Shu Qi also frankly said that she is looking forward to the shooting, because Takeshi is the most handsome man in Asia. She thinks she is the luckiest girl in the world to be able to cooperate with him. She also said that although she has been in the entertainment circle for many years, facing handsome men like Tony and Takeshi, she would still blush every time. Both of them are namely very attractive men according to many females.
Source: Takungpao
Frankie Lam cooperating with an outstanding producer
In the popular TVB series "Forensic Heroes" Frankie Lam portrays a righteous and knowledgeable medical examiner. His handsome appearance has also attracted him many fans. Frankie also indicated that he is very happy to have received the role of Koo Zaak Sam. He also finds his character to be very challenging and he already believed it would be extremely good when he received the script. He is very grateful to producer Mui Siu Ching to choose him for such a breakthrough character. Frankie expressed that he has collaborated with Mui Siu Ching before in "Colourful Life". That collaboration was extremely happy and since that series he has had many collaborations with producer Mui Siu Ching.
Mui Siu Ching is strict and serious towards her work at TVB and known as an outstanding producer. Her standards for the artists and the scripts are very high. And Frankie Lam, famous for his punctuality, was even more punctual during the filming of "Colourful Life". In addition, he will prepare himself fully in his private time, so he has extremely few NG's. Being the first male lead and with such punctuality and as well as seriousness towards his works, the producer and director are also very satisfied with his work attitude. It also safeguarded the shooting process of the series. With such a happy cooperation, Frankie is especially favoured by Mui Siu Ching. One could also say that with the filming of "Colourful Life" they have sealed their fate, because since then they had have many collaborations. And under Mui Siu Ching's love, Frankie has delivered another great performance in "Forensic Heroes".
Source: Sina.hk
Yoyo Mung really wants to be hugged by participants
Yesterday evening, Fala Chan and Yoyo Mung were judges at the "Mr Hong Kong contest". Fala frankly said that she has stretched her hand to touch the hand of participant Bernie Ho, it was only to shake his hands. She said: "Both Bernie's hands were a bit wet. I was quite nervous meeting these fit men. When giving points, I based it on the criteria intelligence and looks."
Fala Chan shook hands with participant
Fala revealed that before the contest she was rooting for Otto Chan and winner François Huynh, she told: "The contest is doing better and better. Unfortunately, most of my male friends are in the entertainment circle, otherwise I would also urge them to participate." Although the previous winner Matthew Ko is defeated, but Fala praises him to have matured and to be more at ease.
Yoyo said: "I want to be Christine Ng the most, she was hugged by the participants!" When talking about her bed scene with Bobby Au Yeung in "Forensic Heroes" raising the ratings, she expressed that she was feeling very happy.
Source: Mingpao

Hehe... I was also supporting for Otto Chan as he is the ex of a friend of mine. Oh well, a second place isn't that bad and I'm sure his participation will open many doors to fulfill his dream. Good luck, Otto!

Law Ka Ying will propose to Liza Wang in 2010
As members of the Hong Kong Celebrity Football Team, Law Ka Ying, Carlo Ng, Felix Wong and Eddie Cheung arrived at the Metro City Plaza where they played games with the residents. Originally Tang Siu Chuen was also supposed to attend it, but he was absent due to his work. Perhaps he was trying to avoid questioning from the reporters about the lawsuit between his mother, Hung Kam Mui, and Siu Ngaai (Tang Chui Yuk)?
In order to watch football, Law Ka Ying hasn't slept all day. He said that he is a supporter of France because they have 'bald Zidane'. In Hong Kong they have him as 'bald whatever' (both have the same pronunciation). He also expressed that the last time he went to Europe, he didn't discuss with Liza about proposals. However, he is now preparing to propose to Liza in four years at the next World Cup in South-Africa because the local diamonds there are famous for its size and beauty.
Carlo let nature takes its course
Newly-wed Carlo has finally finished watching football and can spend more time with his wife again. He said that his wife had to go to work, so she couldn't spend the night watching football with him. However, he didn't go to bars and stayed at home to enjoy the matches on his own. He also revealed that their biggest common interest is walking in the streets everywhere. Asked him whether he had time to make babies when he is spending so little time with his wife, he expressed that everything is turning back to normal now and he will let nature takes its course.
Source: Mingpao
Chin Ka Lok hopes Zidane will retire in honour and glory
Yesterday, Chin Ka Lok and Lee San San attended the "NissanViva@Miramar" function representing the Hong Kong Television and Movie Sports Charity Foundation (香港影視體育慈善基金). They accepted a donation of the car brand worth 40 000 (HKD). Yesterday was also the final game of the World Cup and Ka Lok hoped that France will win. Then Zinedine Zidane could retire in honour and glory like uncle (Lam Man Chung). San San expressed that she was ill earlier, but she is almost recovered at the moment.
Source: Mingpao

Unfortunately Chin Ka Lok's wish was not granted. Not only did France lose the game, but Zidane was dismissed with a red card after he gave Italian player Materazzi a headbutt. What a sad end to such a wonderful career and for the Maestro himself. He has always been a fair and much respected player, someone who doesn't play the game hard and who will not act. It's quite certain that he was provoked by Materazzi's words. However, disregarding his headbutt, he was simply the best at this World Cup. He showed us one last time his talent, his passes, his precision, the way he could read a game,... He's been voted as the best player at this tournament and he truly was. A red card doesn't change that fact at all. Goodbye Zizou and wish you good luck with your further life!

Saturday, July 08, 2006
After 28 years, Louisa So doesn't want to marry anymore
Before the interview with Louisa So, I originally wanted to talk with her about the pain of women. As Louisa has been in the television industry for ten years, she conveys an easy-going yet mature feeling to the viewers. I really believe she would certainly have many experiences to talk about. After the interview, I found out I was wrong about it because Louisa isn't a complaining woman. She is actually a very happy woman. No wonder Louisa doesn't mind being a woman again in her next life. She pleasantly said: "No matter how much pain a woman has, she always has a man to confer it on."
Is it really that hard being a woman? Beauty, emotions, career, … Besides her age slowly increasing, her worries will also possibly increase. Women have an inborn love for beauty, but age will also rush them. Women are more afraid of aging than men. If there appears a wrinkle in their eye corner, they will worry half a day about it. Therefore, women will spend lots of money and efforts on their appearance. And Louisa's skin is smooth and white, her face is frequently glowing and full of health. It turns out that Louisa doesn't spend any efforts or money to keep her skin like that.
"The most important thing is to maintain a happy and relaxed mood. Also important, a good and pure heart. I am a very disciplined person. I don't drink and smoke, I try to sleep as much as possible. I don't oppose people who did cosmetic surgery like once doing a face-lift. However, if you undergo a face-lift to just pull a few wrinkles straight then I don't think it's necessary. A person will definitely age, but the heart is actually the most important. A sixty or seventy-old grandma can also be still attractive and graceful. A good-hearted and well-mannered person can't be that ugly, right?"
A woman over her thirties will long to find a partner faster. In addition with the current situation in Hong Kong with a surplus male population, women are even more anxious about it. However, Louisa doesn't have any worries in this aspect as she has been dating Poon Chen Leung, an actor at the Hong Kong Repertory Theatre, for ten years. Their relationship is very stable and she is definitely not in a hurry to get married.
"Being a modern woman, it isn't a question of marriage or not. When I was a twentysomething I also wanted to get married, but after I was 28 I didn't really think about it anymore. The most important thing is compatibility as marriage is only about a marriage certificate. I believe that men and women are from two different planets as their thinking and their manner of handling matters are totally different. A couple will spend their lifetime together and together they will face many big or small situations. This is a very difficult matter, you could even say it is great 'art' and knowledge."
Currently, the career women in Hong Kong don't have less pressure than men as many females are combining a family with their career. Some of these women even have top positions. Louisa's own work standards are very high and she will completely immerse herself in every job. She is able to not see her family for two or three months because she is shooting a series, however Louisa doesn't feel any pressure.
"I believe that doing a good job is something that one should do, so I don't feel any pressure. I will also not force myself to accept a job that I don't like and I will also not allow myself to exhaust myself so I really don't have any pressure basically. If I have accepted a job, then I will face up to every environment and problem."
If there really exists a next life, then Louisa hopes to come back as a woman in her next life as she said: "Being a woman can be exhausting from nature including psychological pain. Although I am quite a strong person, but I still want to come back as a woman in my next life. Because no matter how much pain a woman has to endure, she will still have others to share the burden with."
Source: Singpao
Chilam Cheung not angry when followed by paparazzi
Yesterday, Chilam Cheung accepted an interview from Metro Radio. As he will become a father soon, he was asked about the sex of the baby. Chilam expressed that he wants to remain it a mystery, so he also doesn't know the sex of his child. However, in his heart it's the same whether it is a boy or a girl.
Asked him who he hopes the baby will resemble the most, Chilam joked that the baby will obviously have to resemble him because he is well-mannered. He finds Anita (Yuen) to be too lively at times. In addition, he also wants the baby to resemble him the most appearance-wise! When asked whether he will marry Anita or not, Chilam refused to respond as he wants to maintain his privacy.
Since Anita is pregnant, they have been frequently followed by the paparazzi. Regarding this, Chilam hasn't been angry yet. He even joked that he has prepared many nice and beautiful clothes because he doesn't want to be snapped in his old and shabby clothes. Soon, he will be heading out to Hengdian in the province of Zhejiang to work for over a month. During that period there will be a parent and a housekeeper to help Anita. And when she goes out, she will have the paparazzi to look after her. If Anita wants to buy something, it's best that the paparazzi will help her carry things!
In addition, regarding his good friend Aaron Kwok spending a million (HKD) to buy his beloved race convertible, Chilam said that his own technique isn't good enough so he will not ask Aaron to borrow his car. However, he will ask Aaron to take him driving around. Chilam continued to say that he and Aaron often drive together. Soon he will not be able to follow anymore as he will go so fast that he can't even see his car anymore. So this time, he will request to ride with Aaron in his new car.
Source: Takungpao
Thursday, July 06, 2006
TVB Programme Highlights 2006 - Issue III
Just saw the new Programme Highlights at the rental store and as I haven't seen the scans on the net yet, I decided to scan them for all of you to enjoy!
Wednesday, July 05, 2006
Michelle Yip's autobiography includes her rumoured boyfriends
Many artists have published their own books this year. It actually turned the book exhibition in an artist's 'war of books'. Among them is Michelle Yip who is promoting her autobiography. She even asked her godfather Cheng Yu Tung to name her book and to write a foreword. The autobiography also includes topics about love, so it stands out a lot.
According to The Sun, this is the first time that Michelle, who is always been labelled as the 'Queen of Rumours', has participated in the book exhibition where she fights for popularity with other artists and talented women. Her autobiography is called "上善若水璇攻略" and is written in a novel-style. She talks about her childhood till the beauty contest, it even includes all her rumoured boyfriends. About this topic, she will talk about how they know each other and with some even their love relationship. It includes her old love from the beginning of her career Benny Chan, Olympic Gold winner Xiong Ni and once rumoured boyfriend Chan Kwok Keung. Main character Michelle also states that she wants to achieve success at the book exhibition.
This book publication is with the support of her godfather, besides naming the book he even presented her with eight words "才情并茂,字字珠璣" (Perfectly compatible, Every word is a gem). Such a foreword will definitely strengthen her in this 'war of books'.
Source: The Sun
Since break-up, Sonija Kwok's popularity increased
Since she split up with her boyfriend Deric Wan, Sonija Kwok's luck has changed. Besides her rising popularity, Chan Kwok Keung is also looking after her. She has also made the transition to the big screen as the female lead as well as moved apartment and changed her car. However, she expressed that her heart isn't that easily moved. Earlier Sonija was wearing a blue tube-top dress hosting a function. She arrived in a new type convertible, worth 2,26 million, so it was quite imposing.
Earning own money is happier
In the beginning of last month, Sonija arrived in a 500 000 HKD worth new convertible to attend the same banquet as Chan Kwok Keung. Regarding the convertible, she expressed that she has always wanted to own one. However, she will not wait for someone to buy her one as she would be happier if she can earn it herself. But she needs to work hard to earn money to change her car. She also indicated that to her the inner is the most important; sincerity is more important than appearance. Asked whether she would refuse a car as a gift, she said that she certainly would. However, no one has ever gave her one and she also wouldn't be moved by it. She declared that she hasn't have a price and she will earn her own money to buy the things she want. She will not easily accept gifts from others.
A school mate invited her for a helicopter ride
Regarding the full edition ad that Michelle Reis has received from Joseph Lau as a celebration for her birthday, Sonija expressed that if it was her she will definitely not respond because liking a person can't be judged by the money that is spent. She tells that for her 17th birthday a school mate has prepared a birthday surprise for her. It turned out to be a helicopter ride, but she remained unmoved as she expressed that it was only his father's money. As she wasn't even impressed by money at that time, how could she be now? Money can't buy her heart! In addition, she indicated that her current standards are very high. She denies Chan Kwok Keung is scaring away potential pursuers, as she is actually enjoying her single life. Moreover, now is the time for her to earn money.
Source: Sina.hk
Sunday, July 02, 2006
Gregory Charles Rivers: away from home to fulfil his dream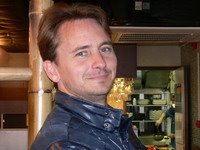 Ho Kwok Wing (Gregory Charles Rivers) is truly a friend of Hong Kong. Compared to many local people, who are born and bred here, his warmth and love towards Hong Kong is much bigger. Why does he have such a big interest in Hong Kong? What is the most important preparation for someone who is leaving his home to develop a career abroad, according to him? It all began when he heard "Amour", "Monica" and "永 不 想 你" for the first time…
(Special mention to the provided location: Coffee Shop Prestigio in Sai Kung)
Cantonese in 100 hours
Gregory's spoken Cantonese is extremely good. How come he has such a big interest in Hong Kong? He left his native country Australia where he has already studied three years of medicine and came to Hong Kong to develop an acting career. Thinking back about it, Gregory also finds it strange: "In 1985, I accompanied a school mate from Hong Kong to here. In a bookstore at Beijing Road I found a book to learn Cantonese called 'Cantonese in 100 hours'. Without hesitation, I bought the book at that time. When I returned home, I diligently began to learn it."
In the early eighties, he achieved brilliant results in grade 12 and was admitted to study medicine at the university. At his dorm 'International House', he accidentally overheard a tape with Cantonese songs from his Hong Kong school mate. Every song of Alan Tam and Leslie Cheung unleashed a sympathetic reaction in him: "At that time, Australia generally listened to rock 'n roll, but to me that was too noisy and loud. I mainly listened to Nat King Cole, Frank Sinatra kind of big band music. When I heard Hong Kong pop music, I thought it was very good and pleasant to the ear. Afterwards, I started to listen to it while I was studying. I was also praised a lot when I sang Cantonese songs like "Amour" or "Monica" at student gatherings. From then on, I was determined to go and live in Hong Kong." If he didn't say it, we truly wouldn't even know it; but his true interest has always been singing and not acting. It's only that there was never an opportunity. Asked him about the songs that has left him the deepest impressions, he replied without much thinking: "Alan Tam's "永 不 想 你". It's actually quite strange, when I was learning to sing Cantonese songs back then I often had to look up words in the dictionary to understand the content of the lyrics. However, for "永 不 想 你" I never came to the point of having to look up in the dictionary. While I was singing it, I gradually understood what the meaning was behind the lyrics. It's really very weird."
"Camelot" in Katomba
It isn't true that Gregory's interest in acting was suddenly developed. He grew up in Katomba in New South Wales. Since he was a little boy, he started to learn clarinet and saxophone and he has also participated many times in the stage play "Camelot". "Unfortunately, I was never the lead actor as most of the time, I was singing in the back or performing a group dance. However, I still found it very interesting."
Fate in Hong Kong
The writer thinks it is a big pity that he gave up on his medical training, for which he has already studied three years. Gregory immediately couldn't stop smiling: "Out of ten Hong Kongers, ten also said the same! At that time, I had to do three restaurant jobs to earn the money to go to university. I also believe that because at the time I studied medicine I ended up in the dormitory. And it's there that I got to know school mates from Hong Kong, Taiwan and Malaysia. From them, I could listen to songs from Alan Tam, Leslie Cheung and George Lam; I could watch Hong Kong movies as well as get to know the culture of Hong Kong. I believe it is a very subtle fate! I have also considered of living in Hong Kong after I have completed my medicine studies, but I have always thought that if I finished my studies I will work as a doctor and thus wouldn't come to Hong Kong. My income would probably be much higher than now, but then I wouldn't have such an interesting and varied life that I now have. I also wouldn't meet so many friends and my wife!"
Working as an English teacher
When Gregory came to Hong Kong in the early eighties, he certainly didn't find opportunities to work as an actor or singer immediately. He had to earn money as an English teacher, but he was very unsatisfied with the school where he was teaching: "At that time, I have just arrived in Hong Kong and I didn't have much to do. Then, I accidentally entered a commercial English school and was invited to work there as an English teacher. In order to live, I had take up this offer. At that moment, my income wasn't much and life was very assiduous. Every day, I could only have one meal. The most unsatisfying was that this school didn't have any principles, for example they would look at people's clothing to determine the fees. After a few months as an English teacher, I finally had the opportunity to shoot series with TVB and my teaching days were over."
The role he wants to portray the most: an average person
Actually, when he first started filming series for TVB, had Gregory ever fantasized that he could take up heavy roles? He gave a forced smile before he replied: "In the beginning I didn't. I often portrayed police officers, foreign managers and priests. All these characters have some sort of power. However, I am hoping the most for an opportunity to play an average character with flesh and blood. And I don't mean an average character who has to manage other people. I have once portrayed a young reporter who has just returned from abroad in "The Criminal Investigator". This was one of the most interesting characters. In order to improve my acting skills, I especially followed acting classes in Los Angeles where I have learned many different things. Now I am attempting for natural portrayals and indulging myself in the identity of my characters to learn the dialogues. It's a challenge for myself. I am pleased to play any character. My performance in "The Gateaux Affaires" is my first performance after I have finished my classes. Of course it isn't perfect, but I am aware that I have progressed a little. My only regret about the classes in Los Angeles is that they were too short! Other people have followed these classes for three years and I only had three months. There are still so many things that I haven't learned yet."
No regrets working as an actor
From 1987 till now, continuously working hard in the acting world of Hong Kong, what is it that has made him remain committed to it? "A desire for fame (!!). I really like it when people recognize me or when people like me. You will have this effect if you stay in Hong Kong filming for the television. Moreover, I like Hong Kong very much as well as filming series and singing. If I return to Australia, I am pretty certain that I can't continue this kind of job in front of the camera anymore. If time was turned back, if I had finished my medicine degree, I believe that I would have married my then Malaysian girlfriend and I would be working as a doctor. I also wouldn't have come to Hong Kong to live. Perhaps at this moment, I would have a family, children and probably a better career as well as income. However, life would be quite boring. Of course, my current income is much lower, but I have an interesting life, a very good wife and a big crowd of pets. My life is very happy. If you let me choose again, I will choose this life all over again."
Performances besides TV series
Besides television work, Gregory also has very happy memories of performances on stage and in movies: "The stage play "Perfume", collaborated with Spring Time, has left me a very deep impression. This kind of performance method has never been tried before: a stage facing four sides, many dialogues, you even have to sing half a song. My performance in "Her Fatal Ways IV" was the biggest role I had. The director Alfred Cheung has taught me many things! For example, he has taught me to maintain my smile all the time."
Fulfilling his initial dream
In the future, Gregory hopes to indulge more time in realizing his initial dream – singing: "I actually enjoy singing jazz and swing songs more like Nat King Cole and Frank Sinatra. These genres aren't very popular in Hong Kong, therefore I am trying my best to sing jazz songs in Mandarin. Many years ago, I have once asked a record company if they were interested in producing an album with me, but it never happened. Now there are also problems of piracy and illegal downloading, so I might consider distributing my songs on-line."
Regarding the frequent portrayals of police officers and priests, Gregory also feels a little helpless: "I believe that the TV station has always seen me as a very convenient tool. Hong Kong is an area full of Chinese faces, but in life you could often encounter foreigners. If you could find a real foreigner to act in it, then it will give out a very realistic and interesting feeling. And it is most convenient if I was to portray this foreigner: I can read and write Chinese, after ten years I could portray it with ease as it has became a familiar job, so whenever they need a foreigner in their series they will think of me. Recently, I have finished shooting "CIB". Although I am playing a police officer again, I have challenged myself. I'm hoping to adopt a more relaxed yet self-controlled manner to portray my character. I will have quite a relaxed and interesting interaction with Bowie Lam."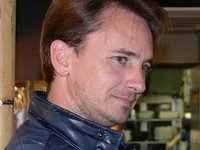 A goal in acting career
Asked Gregory what goal he wants to achieve in his acting career, he frowned his brows and thought for a while: "I am now forty years old and fast approaching forty-one. If I had a goal, I hope I could achieve it before I become forty-five years. Otherwise it will be very difficult to start pursuing one if you are too old. Last year, I have only signed a contract of one series per year, because I hope to do more outside (TVB) work. With such an arrangement I have more freedom to take up various work. Hopefully I can obtain more in the area of singing. Although in every aspect of singing like my skills, understanding the lyrics and sound I could still do with lots of improvement, but I am already working very hard to improve myself."
Leaving the entertainment circle?
Has Gregory ever thought of leaving the entertainment circle and to do other work? He said: "I believe that it is fate that makes me unable to leave the entertainment circle. For most of the actors, if they don't have work opportunities anymore in the acting world, they will find a proper job and change their profession. However, I was never successful in normal work and acting work has always existed. I have once been a stock broker, a programmer and a hardware agent, but I was never successful in any of these jobs. So I could only return to my work in the entertainment circle. In my free time, I will diligently spend it on my blog and taking pictures of birds. However, in the period when I was suffering from a depression, I have thought that my road was blocked, but that's all in the past now. I often talk with my wife about the painful days of the past seven years. Hopefully, the future will bring a period of happy days, more time to spend with my family member and enjoying family life."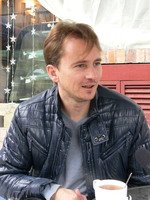 Gregory found out the most important thing in Hong Kong
Leaving behind work and life in his birthplace, Gregory understands what is most important: "To treasure people. Hong Kong has many hard working people who contributes a lot to Hong Kong to let their residents enjoy a comfortable life. However, they haven't received much attention. While many middle class Hong Kongers have a lot and are living a good life, they are still not satisfied as well as not willing to have children. But these hard-working people (labour class) probably works too hard and earn too little. They are willing to have children who will become the future people of Hong Kong. They are actually the unknown heroes of Hong Kong. If a young person wants to develop a career, no matter in their home town or abroad, he or she certainly needs to have a daring mindset. One should do their best and try it, no matter if they fail or succeed, they will not feel regret then, but if one does not try it, they will definitely regret it. When young people wants to realize their dreams, they will have to be more open-minded. If they only care about their immediate benefits, the money on their bank account or maintaining their stable life, their dream will leave them and go further and further away. Leaving behind your home town can enable you to learn and absorb more knowledge than when you keep on staying in your home town. The individual experiences are really worth it. The only advice is to find work that has nothing to do with Chinatown as that is the only way that you can experience a foreign life the most."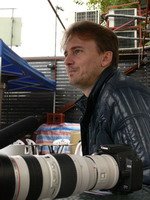 Epilogue
One person leaving behind his home town, pursuing his dream for many years. Facing many different difficulties and challenges, yet he is still bravely marching forward. Solely based on this, a person is touched. Besides, Gregory's interest in living in Hong Kong and its culture truly comes from his heart. Compared to the many foreigners who has lived many years in Hong Kong yet couldn't say one sentence of Cantonese, he is much more sincere.

Source: Apple Daily